600 Watt PAIR 3-way Boxes PA-Loudspeaker Liston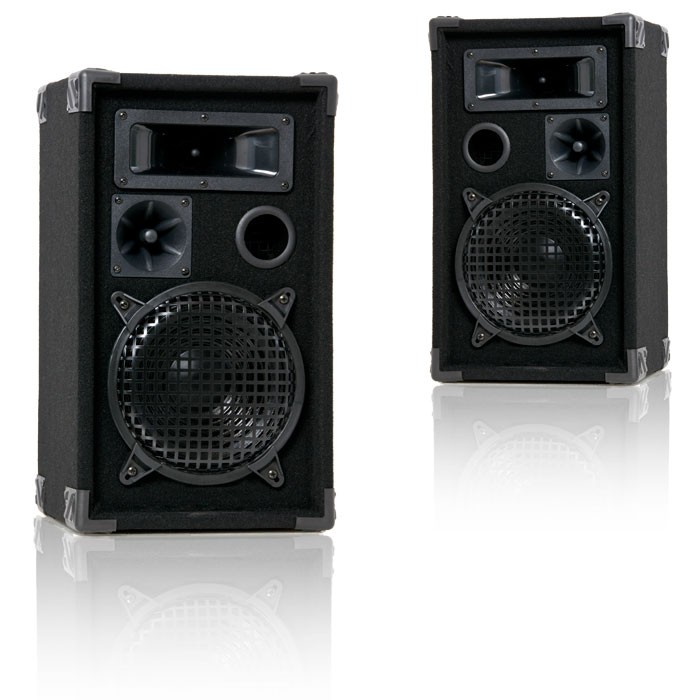 Description:
High performance at a low price: 2 pair of 600 watt boxes! The robust full-range boxes create with a total power of 600 watt a great sound experience. The felt-covered housing also gets along with heavy impacts without any problems - so that it is also ideal for mobile DJs and basement party rooms!

Punchy trebles, soft mid-tones and powerfull bass guarantee also by high load a perfect sound, no matter if for disco or rock music.
2 boxes with a total power of 600 watt - Get yours now!

• Price per pair!


Robust full-range box:

• 3-way party box for disco and rock music
• piezo tweeters for punchy trebles
• midrange horns for soft mid-tones
• subwoofers with such a stiff suspension create pure base sound
• Very high load capacity
• with carrying handle
• stable wooden cabinets with scratch-resistant, black felt cover
• stable safety grill prevents the unit from damage
• with stable corner protectors made of plastic
• compact box to transport in passenger car
• ideal for mobile DJs or for fixed installation in basement party rooms

Techinal Data:

• nominal loading capacity: 150 Watt
• loading capacity PMPO: 300 Watt
• bass loudspeakers: 20 cm (8")
• Connections: 2 clamping terminals
• impedance: 8 ohm
• frequency band: 50 - 18 000 Hz
• dimensions (height x width x depth): 470 x 270 x 250 mm
• Weight: 7 kg
Shipping
The following terms and conditions apply:
Dispatch conditions
Domestic delivery (Germany) and neighbouring countries:
Belgium, Netherland, Luxembourg, Austria, Denmark, France, Great Britain, Sweden, Italy, Switzerland, Liechtenstein, Czech. republic, Ireland, Portugal, Slovakia, Slovenia, Estonia, Latvia, Lithuania, Spain, Finland, Poland, Hungary, Bulgaria, Norway, Bosnia u. Hercegovina, Croatia, Romania, Greece, Iceland.

Goods can also be shipped to German islands, with the exception of: Hiddensee, all Nordfries. Islands, all Ostfr. Islands, Chiemsee

Dispatch shall not be made to the following foreign islands: We do not deliver to European islands outside of Germany.


Dispatch costs (inclusive of legally applicable VAT)
Domestic deliveries (Germany):

We charge a flat shipping fee of 4,95 € per order.

From a order value of 100,00 € onwards, we deliver shipments free of cost.

In case of deliveries to the German Islands, an island surcharge of 14,95 € is charged on the dispatch costs.


Deliveries to foreign countries:
We charge a flat shipping fee for international deliveries:

Per package 9,90€
Austria

Per package 16,90€
Belgium, Netherlands, Luxembourg, Denmark, France, United Kingdom

Per package 19,90€
Sweden, Italy, Switzerland, Liechtenstein, Czech. Republic, Ireland, Portugal, Slovakia, Slovenia, Estonia, Latvia, Lithuania, Spain

Per package 26,90€
Finland, Poland, Hungary, Bulgaria

Per package 39,90€
Norway, Bosnia u. Herzegovina, Croatia

Per package 59,90€
Rumania, Greece, Iceland


Delivery periods
Unless otherwise specified in the quote, domestic delivery of goods shall be made (Germany) within 1 - 3 days, for deliveries abroad within 5 - 7 days from conclusion of contract (if advance payment agreed from the date of the payment instruction).
Please note that deliveries are not made on Sundays and other holidays.
If you have ordered articles with different delivery dates, we send the articles together in one delivery if no other agreement has been made. The delivery date for the complete order will be the same as that of the article with the longest delivery time.

In case of self-collection, we will inform you by email once the product is ready, along with the collection options. In this case, dispatch costs will not be charged.
Payment
Accepted Payment options
- Payment in cash at the time of collection


- Prepayment via transfer




- Payment via PayPal




- Payment via Sofortüberweisung [immediate transfer]




- Payment by invoice (via Klarna)




- Payment via instalment purchase (via Klarna)


- Payment via amazon payments

Our bank account:

Volksbank RheinAhrEifel eG
IBAN Nr. DE17 5776 1591 0600 1418 00
Swift Code GENO DE D1 BNA

In case of questions, please contact us at the contact details mentioned in the Legal Notice.
Rating
Here you'll find ratings of our customers of this product
Tobias Endres

2019-04-22 18:27:45




Reitanlage Höger

2017-12-18 14:48:20




Carsten Krause

2016-11-22 19:11:12



Bernhard Hochstein2016-10-29 20:07:43
1a
Friedhelm Wolf2016-08-08 05:21:36
1A Lieferant
Carsten Knehe2016-07-31 22:17:57
Für den Preis absolut in Ordnung
Steffen Richter2016-07-24 00:05:55
sehr empfehlenswert , gern wieder
Michael Mohr2016-04-24 13:07:58
Alles OK
Christoph Kubitzki2016-04-19 21:45:31
schnele und problemlose lieferung artikel ist in sehr gutem zustand gekommen und endspricht dem was ich erwartet habe
Mykola Tykholaz2016-03-07 10:38:42
GUT!
Marco Weigl2016-02-19 15:04:07
Leider sind die Boxen beschädigt und schlecht verpackt angekommen. Aber ohne Probleme wurde mir ein Retourschein zur verfügung gestellt und Artikel zurück genommen.
Elmar Rosenthal2016-02-16 21:56:44
Sehr gute Ware schnell geliefert.
Peter Maurer2016-02-10 22:15:37

Wolfgang Nilges2016-02-09 18:25:37

Bruno Simmler2016-01-25 06:03:52

Gabriele Müller2015-11-23 06:07:26
Super günstig
Juergen Fasse2015-11-10 09:32:38
Für das kleine Geld, Super Klang, Schnelle Lieferung, immer wieder gern
Walburga Schmidt2015-11-06 07:01:57
Super Ware Sehr gut zu empfehlen
Reinhard Lork2015-10-28 12:24:29

Torsten Ludwig2015-10-08 06:21:04
Top Preis Leistung
Thomas Ebensberger2015-06-16 09:27:13
alles bestens, vielen Dank!
Sven Mueller2015-06-02 16:19:41
siehe Bundle
Justus-von-Liebig Schule BBS III2015-05-27 09:16:37
gut zufrieden mit dem Gerät und der Lieferung
Birgit Krietzsch2015-04-30 16:32:51
Top
Devid Streit2015-04-22 12:05:30

Devid Streit2015-04-22 12:05:28

Sipko Rienks2015-03-29 16:53:10

Sipko Rienks2015-03-29 16:52:58

James Mcgregor2015-03-23 12:27:42

Frank Kornaretzky2015-03-09 11:27:29

Marvin Jaenicke2015-03-01 22:10:11
Da hat mein Handy besseren Sound... Kein Bass, Schlechter Sound nur Laut.
Patrick Sakaneno Mukoko2015-02-26 15:06:46
Very good
Dieter Spannl2015-02-23 12:09:17
Gute Qualität, guter Preis !!
Melanie Frießner2015-02-23 08:04:54
super sehr zu empfehlen :)
Sabine Hommer2015-02-22 19:41:59
Top Ware alles wie beschrieben immer wierder gerne. Sehr sehr schnell Lieferung Top Verkäufer.
Peter Kirschner2015-02-18 11:23:51
TipTop. Als Schweizer bin ich Qualität gewohnt und das ist die Armbrust wert. Immerwieder gerne wenn`s so daherkommt.
Uwe Baumert2015-02-16 19:54:37
Preis-/Leistung ist okay
sonia rosillo2015-02-10 12:16:45

peter hellendahl2015-02-05 09:17:59
Sehr schnell alles OK.
Jan Gerhard Lalk2015-02-02 07:15:47
top
Thomas Riedel2015-01-31 11:31:49
Sehr gutes Preis-Leistungsverhältnis
Markus Höhnle2015-01-25 20:39:23
Tolle Lautsprecher für kleinen Preis!
SIGURD MÜLLER2015-01-20 18:47:44
alles Super
Wolfgang Schattauer2015-01-14 10:25:03

Guenter Jablonski2015-01-11 19:08:47
alles bestens
Claus Gärtner2015-01-09 11:11:25
sehr genaue beschreibung
Jürgen Weidler2015-01-04 09:44:09
super
Peter Höhnel2015-01-03 20:40:05
Sehr schnelle Lieferung, brauche warscheinlich.noch. 2.Überlege noch.
Stefan Hüllenhütter2014-12-27 09:52:13

Ulrich Dräßig2014-12-26 21:33:59
Alles Super, danke an euer super Team,gerne wieder,bis bald, ein zufriedener Kunde !!!
Manuel von Hecken2014-12-25 17:02:09
Super ware für wenig Geld Toller shop immer wieder gerne zu Empfehlen :))))
Werner Schmidtkunz2014-12-14 19:06:53
Gut verpackt angekommen, Versand mittelmäßig schnell, Verarbeitung leichte Mängel
Lothar Göllinger2014-12-12 11:01:52

Klaus Strobelt2014-12-08 17:43:17
Alles wunderbar. So wünscht man sich jeden Kauf. Ich bleibe gern Kunde und kaufe wieder. Nochmals besten Dank. Klaus Strobelt
Georg Peters2014-12-08 12:54:25
Ware ist ok
Nikolaus Mogk2014-12-01 20:08:07
Beschädigt
Carsten Burzynski2014-11-23 10:52:22
TOP
Josef Deutz2014-11-23 09:03:48
Super alles bestens
william asare2014-11-06 17:44:50

Lutz Bosch2014-11-05 18:42:57
Sorry,hatte zwar schon bewertet,aber zweimal gut ist bestens. Nochmals vielen Dank.
Klaus Rick2014-10-28 18:52:30
Super Ware ... sehr schnelle lieferung sehr zufrieden
Ulf Pierau2014-10-24 15:02:23
Hallo Leute alles bestens! das Produkt enzspricht genau meinen Erwartungen. klanglich gut, gute verarbeitung. auch die schnelle Lieferung - überhaupt die ganze Kaufabwicklung bestens! Jederzeit wieder beste Grüße ulf Pierau
Matthias Sauer2014-10-23 09:29:37
TOP ...alles bestens...
Georg Stöckinger2014-10-22 19:13:34
viel box für wenig geld
Detlef Hurst2014-10-21 12:24:40
Super Ware. Alles top gelaufen. Sehr schnell. Gerne wieder.
Franz Fredl2014-10-21 07:13:24

harald schuwerack2014-10-14 15:41:14
Die Lautsprecher Boxen habe ich heute erhalten.Der Probeverlauf einer Box verlief positiv,. mir fehlen nur die richtigen Stecker dazu Gruß Harald
Clemens Hubauer2014-10-05 11:07:20
Wahnsinns Lautsprecher für dieses Geld. Wer High-End sieht natürlich anders aus.
Uwe Rieder2014-09-23 11:13:59
sehr schnelle lieferung einfach nur top.
Dietmar Bekel2014-09-15 21:33:38
alles super
Ralf Nikolai2014-09-09 11:41:10

Axel Sieker2014-09-07 18:40:59
Alles Bestens Vielen Dank
Willi Singer2014-08-13 13:26:17
Tolle Boxen und guten Klang für wenig Geld. Habe bereits das zweite Paar gekauft !! Optimal für den Partykeller etc., klingen echt super.
Maik Fritzsche2014-08-12 06:17:40
Gute Lautsprecher zum guten Preis.
Dirk Grebe2014-08-05 21:41:20
Alles bestens, Danke
Eisele Harry2014-08-03 22:14:49
Gute handliche Bocken mit gutem Bass zum guten Preis
Olaf Folaron2014-08-03 20:04:35

Udo Baumann2014-08-02 23:17:24
Alles super
Marita Dovermann2014-07-30 19:26:09
Alles Bestens gelaufen, zu empfehlen, Gerne wieder
Thomas Schmidt2014-07-29 03:08:16
Super gelaufen. Gerne wieder. Danke
Maik Fritzsche2014-07-28 17:38:59
Super Boxen. Schneller Versand.
rainer schmidt2014-07-27 14:21:25
alles klar immer wieder
Thomas Schmidt2014-07-22 03:52:35
Super Qualität und auch alles andere ist super gelaufen.
Matthias Weiß2014-07-08 15:56:12

Stefan Hilbert2014-06-30 06:24:27
Klingen etwas hohl, sind aber gut und sauber verarbeitet und für diesen Preis ok
Horst-Olaf Wenzel2014-06-29 11:31:04
Machen zwar viel krach aber schlecht verarbeitet und keine frequenzweiche verbaut
Bernd Splawski2014-06-24 08:30:30
Super Ware. Super Preis. Schnelle Lieferung. Gerne wieder.
Thomas Böcke2014-06-15 18:18:53
2. Paar für den Übungsraum. Schnelle Liefung. Alles super
Veljko Vujnovic2014-06-10 21:01:27
Für DEN Preis ? Top !
Patrik Hoehne2014-06-05 18:37:52
siehe Kommentar Bundle "
Angela Gölzner -Weber2014-06-04 14:44:12
Optisch ein Highlight, aber die Lautsprecher brummen
Peter Fabel2014-06-02 09:19:51
Sehr Gut
Michael Irmler2014-05-31 20:13:42
top sound erwartung übertroffen
karl hahnen2014-05-24 23:37:08
Hervorragend immer wieder!!
Rüdiger Wegner2014-05-21 08:32:16
Wir waren vom Klang der Boxen vollkommen überrascht , für den Preis einfach TOP ! ! ! ! ! Auch höhere Pegel werden verzerrungsfrei wiedergegeben ( für die Gaststätte genau das richtige ) . Kann man nur wärmsten für solche Einsätze weiter empfehlen . Fazit : Guter Sound für kleines Geld . Das Team vom PIANO
Hartmut Steinke2014-05-18 20:50:07

Knut - Udo Laufer2014-05-18 09:52:08
Super Klangbild klasse Optik Preis - Leistung stimmt absolut
Sascha Gelzleichter2014-05-15 16:00:21

Birgit Franzreb2014-05-13 07:30:38
Blitzschnelle Lieferung, Ware top, vielen Dank!
Jörg Müller2014-05-12 19:40:13
Bestens geeignet für meine Ansprüche. Vielen Dank.
Horst Mohr2014-05-07 21:48:38
alles ok. vielen dank
Ròmul Paz i Rodríguez2014-05-07 20:20:20

simon beck2014-05-06 22:07:03

Ladislav Hotovec2014-05-05 15:02:47

Michael Haerter2014-05-05 01:47:30
Für diesen Preis sehr gute Boxen mit vernünftigem Klang. Bestellabwicklung und Lieferung sehr schnell und unproblematisch. Jederzeit gerne wieder!
Siegfried Heeger2014-04-30 18:42:01
alles gut
Michael Podwojewski2014-04-29 12:32:48

Andreas Hellinghausen2014-04-06 17:30:53
großer klang für kleines Geld
Michael Lipper2014-04-02 18:55:20
alles gut und super schnell
Thies Hasbargen2014-04-01 00:53:33
Grauenvoller Klang Beide Tieftöner scheppern,billige verarbeitung.Hochtonhorn Fake. Fazit:Geschenkt zu teuer
stefanie fina2014-03-24 20:51:38
Super ware echt guter klang für den preis
Ulrich Waschnewski2014-03-23 08:59:07
Artikel schnell bekommen, Top Zustand, keine Mängel
Sergej Merkel2014-03-20 08:18:26
Blitzschnelle Lieferung ! Danke!
juri triller2014-03-19 19:16:54

Thomas Neusesser2014-03-16 10:47:15
Erstklassige Ware, Supersound
Markus Pohl2014-03-11 19:34:01

Jennifer Carstens2014-03-09 22:06:20

Bianca Stilke2014-03-03 20:37:58
Top Qualität und super Leistung und Klang!!
Horst Beiderwellen2014-02-24 10:55:10

Ronald Kaufmann2014-02-18 21:11:08

Albrecht Schäpe2014-02-16 19:11:16
toll, ich bin sehr zufrieden
FERNANDO RAMOS ALBILLO2014-02-16 17:48:50

Klaus Burock2014-02-13 21:31:40
Alles top gute Leistung für kleines Geld
Vera Lisogor2014-02-12 19:23:02

Peter Wehling2014-02-11 10:42:52
Bin sehr zufrieden mit den Boxen.
Frank Wackwitz2014-02-10 15:17:59
War alles perfekt
Joachim Fuchs2014-02-10 10:29:55
Super!
Nils Gruschka2014-02-09 16:48:42

Martin Fydrich2014-02-09 13:44:17
Alles bestens, schnelle Kaufabwicklung, Danke
Winfried Schatt2014-02-04 20:45:56
in Ordnung
reinhold grohar2014-02-03 15:08:46
super qualität für diesen preis danke
Rolf Damm2014-02-01 23:47:52
Nach Bestellung kam die Lieferung am 3. Tag. sehr gut ist weiter zu empfehlen.
Thomas Sand2014-02-01 19:34:47
Alles Super
klaus armes2014-01-30 17:19:57

Manfred Schneider2014-01-27 20:08:59
Blitzlieferung - superklang - das hat sich richtig gut gelohnt. Besten Dank,
Klaus-Jürgen Zörner2014-01-25 23:24:09

Volker Bischoff2014-01-25 19:53:42
Erfüllt den Auftrag
LUIS MIGUEL PALACIN RIVERO2014-01-25 19:50:32
perfect- I'm really happy with the Price and the product.
Raoul v. Beaulieu2014-01-22 18:57:54
Sehr gut, macht dollen Sound! Sowie problemlose Bestellung und Blitzversand.
Lukas Rueß2014-01-13 10:43:33
Gutes Preisleistungs Verhältnis, aber in den Höhen hören sie sich schlecht an
Tim Bornewasser2014-01-12 01:09:17
Sehr professionell immer wieder gern. Gleich eine Frage dazu besteht die Möglichkeit nochmal das selbe Produkt zu bekommen? Schreiben sie mich einfach an. Danke nochmals.
Norbert Koch2014-01-09 12:56:36
Sehen nicht nur gut aus,haben auch einen super Klang.
Susanne Grau2014-01-04 20:21:21
Alles wunderbar, vielen Dank.
Dirk Ehlers2014-01-04 19:04:27
Alles bestens, vielen Dank
Sergej Miller2014-01-02 23:22:31
Es hat supper geklappt vor allem pünktlich.
Markus Laumann2014-01-01 19:04:08

Peter Resl2013-12-29 14:51:36
Preis und Leistung sehr gut,die Zustelung sehr schnell ,,super"
Michael Klink2013-12-29 14:30:56
Alles super!!!
Rainer Beck2013-12-29 00:10:59
man kanns nicht besser machen, danke schön!
Hahn Olga2013-12-27 18:19:35
Tolle Ware!
Wilhelm-Hermann Tellmann2013-12-26 16:26:16
sehr schnelle Abwicklung
michele ciardiello2013-12-23 18:52:14

Jürgen Niedrig2013-12-23 14:16:02
Alles bestens, suuuperschneller Versand
Anna block2013-12-22 22:07:03
alles super
Sebastian van Soest2013-12-21 22:25:03
Bestens. Gerne wieder.
jessika jackson2013-12-21 11:43:12
Tipptopp und unglaublich schnell
Andreas Kerkhoff2013-12-19 10:00:28
Alles Bestens
Frank Kawohl2013-12-18 12:16:37
Super schnell & gut - Alles bestens
Steinepreis Waldemar2013-12-15 07:51:15
War alles reibungslos günstig gut und sehr schneller Versand.
Monika Linden2013-12-11 10:47:21

Rainer Otte2013-12-07 19:11:50

Manfred Hilgers2013-11-27 07:39:40
Schneller Versand, gute Kommunikation, Preis-Leistungsverhältnis gut. Alles o.k.
peggy weihrauch2013-11-24 12:48:05
immer wieder gern
Christiana Klöpfer2013-11-19 14:06:41
gute boxen und sehr schnelle Lieferung
Alexander Apel2013-11-17 21:05:58
Perfekt. Vielen dank.
Andreas Gamradt-Löffler2013-11-12 19:40:40
versandkosten etwas hoch aber sonst super !!!
Peter Lahr2013-11-03 21:37:36
alles bestens.
Anja Azirar2013-10-28 19:38:36
Super Ware alles bestens und vor allem schnelle Lieferung.!!!!
Michael Patscheider2013-10-17 11:45:15
Schnelle Lieferung!!! TOP
Behrous Arastafar2013-10-15 18:35:55
Bin sehr zufrieden, alles lief Bestens....
Schmidt Robert2013-10-12 12:59:51
guth
Mirko Nimpsch2013-09-29 13:52:25
Sehr gut, würde jederzeit wider bestellen.
Bodo Stender2013-09-25 17:22:47
super alles gut gelaufen gerne wieder
Axel Boettcher2013-09-21 12:46:25
Alles prima. Für Parties genau das Richtige!
juan manuel sancho marchite2013-09-18 00:12:04

Birkelbach Kai2013-09-17 09:06:57
Alles bestens schnelle Lieferung und gute Produkte
Marcus Vatterott2013-09-12 11:12:13
Ausgezeichneter Verstärker mit sehr gut klingenden Boxen und das ganze zu einem unschlagbaren Preis. Wenn man dann noch die Lieferzeit von nur 24h in Betracht zieht, kann man wirklich nur wunschlos glücklich sein.
Jürgen Schulz2013-09-10 19:43:49
Gute, preiswerte Ware, schneller Versand. Top!
Andre Schöberle2013-09-08 09:48:43

Manuela Püschel2013-08-28 14:21:22
Klasse Ware
Jörg Seyen2013-08-20 15:15:53
Für Disco nicht Geeignet vielleicht für kinder. haben überhaupt keine Leistung!!
horst anton2013-08-11 11:54:16
sehr gut danke
Peter Oertel2013-08-07 19:20:53
schnelle und gute Lieferung, keinerlei Beanstandung.
rene trippelsdorf2013-07-14 09:51:31
Boxen sind super,Versand und Lieferung einwandfrei. Vielen Dank!!!
Slim Enouri2013-07-13 18:55:59
Danke , alles so wie beschrieben ! Super !!!
Dirk Eifert2013-07-08 13:00:16
Alles Super gelaufen. Weiter so.
Stefan Imets2013-07-07 18:20:52

KARSTEN GEFFERT2013-06-27 21:38:08
Bin sehr zufrieden mit dem Boxen Paar.Kann ich nur weiter empfehlen....
Nancy Kawina2013-06-25 20:55:00
Vielen Dank! Auch für die Beratung per Mail !!!
burkhard menzen2013-06-23 14:25:50
gute Boxen müssen nicht teuer sein, top bei jeder Party
Reinhard Müller2013-06-17 19:26:11
Ich bin sehr zufrieden mit der Ware die ich erhalten habe. Danke schön!
Christiana Klöpfer2013-06-15 21:46:18
sehr gute Boxen
Frank Schoknecht2013-06-14 17:13:49
sehr gut
Anna Mathis2013-06-11 09:38:41
wurde schnell geliefert.
Thomas Brake2013-06-10 10:12:52
Alles super,Danke
selina friedrich2013-06-08 18:59:57
Alles bestens vielen dank
Thomas Pichler2013-06-04 17:19:32
Superschnelle lieferung alles bestens
Ferenc Horvath2013-06-02 22:49:30
alles super
wolfgang Sapel2013-05-31 08:21:44
Alles Super besser geht nicht Danke
Marc Ganot2013-05-29 07:16:48

Heinz Vogler2013-05-27 15:28:17
Sehr gute Lausprecher ! Guter Klang für wenig Geld ! Empfelenswerte Lautsprecher !
Matthias Terpe2013-05-22 13:12:20
alles klasse
Wilfried Gooss2013-05-21 11:55:17
Verpackung und Versand supi. Verarbeitung nicht so gut.(schrauben zu weit draußen / Kratzer im Schrank) Kommunikation supi
Wolfgang Hoborn2013-05-21 07:10:20
Schnelle Lieferung - Preis/Leistung sehr gut.
CELEGHIN MARIO2013-05-16 17:04:26
BRAVISSIMI TUTTO OK
Konstantoula Veneti2013-05-14 22:04:01
Super Service!!!! Schnell,Reibungslos,Qualitativ, einfach Klasse!!!
jesus cruz romero2013-05-13 14:39:28

Christoph Messner2013-05-13 12:53:47
Hat alles super geklappt war sehr zufrieden superschnelle Lieferung
Jens Dorigo2013-05-05 23:14:58

Ingolf Gibbert2013-04-30 18:14:32
Alles bestens bin sehr zufrieden gerne wieder.
Rolf Andreßen2013-04-23 18:34:55
Alles super :-)
siegfried bittner2013-04-21 10:51:20
alles bestens
Dieter Lingnau2013-04-16 21:13:12
Klangmäßig gute Boxen, die in unserem Schützenheim zur Beschallung eingesetzt werden. ( bis zu 150 Personen ). Sehr zufriedenstellend.
Frank Lange2013-04-16 07:54:18
superschnell immer wieder guter service
Uwe Bodo Schulz2013-04-14 18:50:24
Bin sehr zufrieden. Komunikation war sehr gut, werde öfters bei ihnen Einkaufen.
Martin Ottenroth2013-04-14 14:22:50
Gute Boxen günstiger Preis schnell geliefert,was will man mehr?
Frank Lange2013-04-10 07:45:40
superschnell immer wieder toller service
Stephan Geiser2013-04-09 16:53:43
Alles bestens, herzlichen Dank
Daniel Rossmann2013-04-07 21:31:00
Super Verkäufer es gab keine Probleme und auch sehr schneller Versand
Sabine Reiß2013-04-05 11:58:52
Alles super.Danke
Erwin Loeschel2013-04-02 15:22:45

Karl-Heinz Keßler2013-03-24 09:22:27
von der Bestellung bis zur Lieferrung alles 1a. Top Faforit
CLAUDIO Uhlenbruck2013-03-19 19:53:01
In Ordnung
Detlef Strauss2013-03-19 19:42:03
Sehr zufrieden , jederzeit wieder
Suckau Walter2013-03-17 19:50:33
Sehr netter Kontakt, super schnell... gerne wieder... vielen Dank!!!!
Lothar Mühlmannn2013-03-17 01:52:55
Super Ware und super Partner
Michael Kimmina2013-03-16 17:40:56
Hat alles super geklappt ,, ware ist super Danke
david ford2013-03-12 11:56:29
A1.Super danke.
Mirko Jätschmann2013-03-11 20:08:40

Birgitt Koehne2013-03-10 19:01:55
Lief alles reibungslos
Thomas Brettschneider2013-03-06 17:25:09

Gerd Böhner2013-03-06 12:58:25
Der Artikel ( Lautsprecher ) ist spitze.
René Langenberg2013-03-03 10:26:33
Alles Top, ich würds sofort weiterempfehlen
Ralf Dietrich2013-03-01 09:22:57
Versender hat eine service-hotline bei der keiner abhebt.was soll das ?vor allem wer braucht so eine nummer? voll fürn A....! kann ich nich gut bewerten.NIE MEHR WIEDER
Bernd Kück2013-02-28 07:48:11
einfach klasse entsprach alles wie mann es sich Denken konnte schnelle Lieferung usw. weiter so kann mann nur weiter empfehlen
Norbert Breer2013-02-24 20:30:08
Alles gut, sehr schnelle Lieferung
Sandra Stattmann2013-02-24 18:08:00
alles super
Mario Wipf2013-02-21 21:44:56
Perfekt
Heiko Böckmann2013-02-18 09:30:52
Alles bestens
Daniel Schrag2013-02-14 12:34:31
gerne wieder
Christian Beil2013-02-12 08:02:34

Manfred Köster2013-02-11 07:43:36
sehr schnelle Lieferung, zum weiter empfehlen super shop
Franziska Horn2013-02-10 21:03:32
superschnelle Abwicklung, problemlose Lieferung, Boxen halten, was sie versprechen
Michael Steinhage2013-02-10 18:22:08
Alles super gelaufen.
Gerd Seul2013-02-10 09:31:09
alles super, schnelle Lieferung. Dane!
Tanja Lütkemüller2013-02-06 22:29:37
trotz Fehler von DHL, neue Lieferung bekommen. Sehr nette und schnelle Bearbeitung meiner Bestellung. Immer wieder gerne !!!! Sehr empfehlenswert!!!!
stephan ruppert2013-02-03 13:32:58
Alles i.O. Vielen Dank!
Wilhelm Ohrem2013-02-02 20:02:09
+++alles bestens+++
Günther Niemz2013-02-02 19:37:15
Sehr schnelle Lieferung; Ware wie beschrieben; alles bestens; gerne wieder.
Andreas Baudiß2013-01-29 18:14:01

Kontakt
You have a question about this article? With the form below, you can contact our support directly.