600 Watt PAIR 3-way Boxes speaker OMNITRONIC DX-822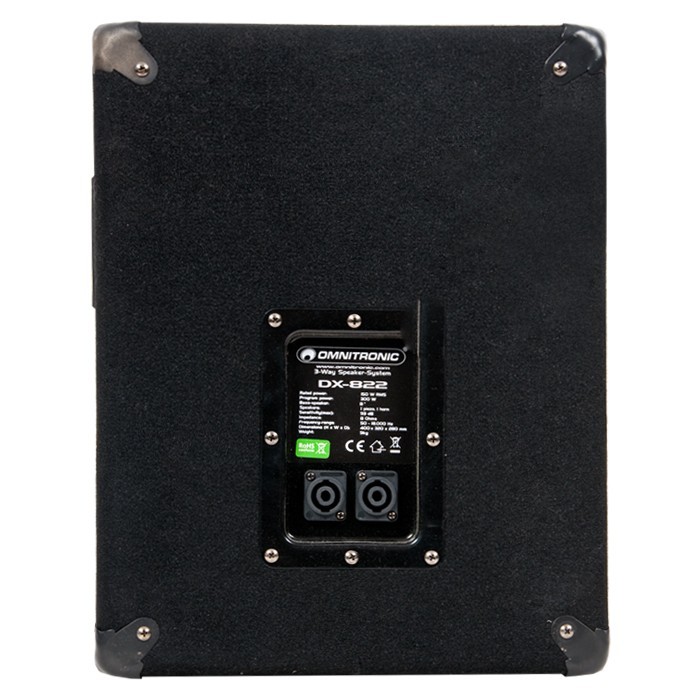 Description:

High performance at a low price: The OMNITRONIC DX-series! In 6 different power levels available, for nearly every requirement there is the perfect box offered by the DX-series.
The speakers made by Omnitronic create with a total power of 600 watt an unbelievable sound experience and make all your friends turn green with envy. Punchy trebles, soft mid-tones and powerfull bass with optinal sub bass guarantee even at hight loads a rich sound, no matter if for disco or rock music.
The felt-covered housing also gets along with heavy impacts without any problems, so that it is also ideal for mobile DJs and wild parties!
The integrated crossover ensures a well-balanced sound, so that each speaker only plays that for what it was made for.
The connection is made via one of both lockable loudspeaker inputs at the back side, to the second socket it also can be connected another box - for more bass also a subwoffer!
To gain an optimal sound distribution and a great sound experience, the loudspeakers have a mounting device so that a suitable tripod or a speaker stand can be raised.

• Price per pair!

Robust full-range box:

• 3-way party box for disco and rock music
• piezo tweeters for punchy trebles
• midrange horns for soft mid-tones
• powerfull bass for optional sub bass
• Very high load capacity
• with carrying handle
• mounting flange for tripod mounting
• stable wooden cabinets with scratch-resistant, black felt cover
• stable safety grill prevents the unit from damage
• with stable corner protectors made of steel
• compact box to transport in passenger car
• ideal for mobile discotheques or for fixed installation in basement party rooms

Technical Data:

• nominal loading capacity: 150 Watt
• loading capacity program: 300 Watt
• bass loudspeakers: 20 cm (8")
• loudspeakers: 1 piezo, 1 horn
• Connections: 2 speaker-sockets
max. sound pressure: 93 dB (1 m)
• impedance: 8 ohm
• frequency band: 50 - 18 000 Hz
• dimensions (height x width x depth): 400 x 320 x 280 mm
• Weight: 9 kg
Shipping
The following terms and conditions apply:
Dispatch conditions
Domestic delivery (Germany) and neighbouring countries:
Belgium, Netherland, Luxembourg, Austria, Denmark, France, Great Britain, Sweden, Italy, Switzerland, Liechtenstein, Czech. republic, Ireland, Portugal, Slovakia, Slovenia, Estonia, Latvia, Lithuania, Spain, Finland, Poland, Hungary, Bulgaria, Norway, Bosnia u. Hercegovina, Croatia, Romania, Greece, Iceland.

Goods can also be shipped to German islands, with the exception of: Hiddensee, all Nordfries. Islands, all Ostfr. Islands, Chiemsee

Dispatch shall not be made to the following foreign islands: We do not deliver to European islands outside of Germany.


Dispatch costs (inclusive of legally applicable VAT)
Domestic deliveries (Germany):

We charge a flat shipping fee of 4,95 € per order.

From a order value of 100,00 € onwards, we deliver shipments free of cost.

In case of deliveries to the German Islands, an island surcharge of 14,95 € is charged on the dispatch costs.


Deliveries to foreign countries:
We charge a flat shipping fee for international deliveries:

Per package 9,90€
Austria

Per package 16,90€
Belgium, Netherlands, Luxembourg, Denmark, France, United Kingdom

Per package 19,90€
Sweden, Italy, Switzerland, Liechtenstein, Czech. Republic, Ireland, Portugal, Slovakia, Slovenia, Estonia, Latvia, Lithuania, Spain

Per package 26,90€
Finland, Poland, Hungary, Bulgaria

Per package 39,90€
Norway, Bosnia u. Herzegovina, Croatia

Per package 59,90€
Rumania, Greece, Iceland


Delivery periods
Unless otherwise specified in the quote, domestic delivery of goods shall be made (Germany) within 1 - 3 days, for deliveries abroad within 5 - 7 days from conclusion of contract (if advance payment agreed from the date of the payment instruction).
Please note that deliveries are not made on Sundays and other holidays.
If you have ordered articles with different delivery dates, we send the articles together in one delivery if no other agreement has been made. The delivery date for the complete order will be the same as that of the article with the longest delivery time.

In case of self-collection, we will inform you by email once the product is ready, along with the collection options. In this case, dispatch costs will not be charged.
Payment
Accepted Payment options
- Payment in cash at the time of collection


- Prepayment via transfer




- Payment via PayPal




- Payment via Sofortüberweisung [immediate transfer]




- Payment by invoice (via Klarna)




- Payment via instalment purchase (via Klarna)


- Payment via amazon payments

Our bank account:

Volksbank RheinAhrEifel eG
IBAN Nr. DE17 5776 1591 0600 1418 00
Swift Code GENO DE D1 BNA

In case of questions, please contact us at the contact details mentioned in the Legal Notice.
Rating
Here you'll find ratings of our customers of this product
Christian Meister

2015-01-07 19:35:33




Alexander Paswerg

2014-03-04 19:20:41




MANUEL GARCIA-POZUELO GOLFE

2014-02-16 08:47:54




Friedrich Hornischer

2014-02-01 01:13:42



Raul Salazar Barrios2013-09-29 20:48:04
Ich bin einfach begeistert, Tolle Leistung, plüntlichkeit, Werde immer Kaufen, entfählle ich weiter !
Thomas Mannsfeld2013-09-11 19:02:44
Top
Roxana Ogodescu2013-05-27 00:07:47

Kluger Benjamin2013-03-01 00:29:33
mega muns spitze
horst schröder2013-01-15 17:21:19

Klaus-Dieter Söhl2013-01-03 20:18:20

Sascha Braun2012-09-05 08:52:52
Sehr guter Service und Ware
Maik Oelsner2012-01-30 10:15:06
Gute Soundqualität, Boxen reichen für eine kleine Party vollkommen aus
Wolfgang Schnitter2011-11-05 17:53:57

mike christian zwer2011-11-02 20:05:05

Harald Beck2011-10-18 18:19:21

Rewert Hinrichs2011-10-15 16:43:23
Gesehen, bestellt und flott geliefert. Vielen Dank, gerne wieder!
Manfred Gaupp2011-10-08 16:36:13

Carola Roßberg2011-09-30 19:13:45

Hans-Detlef Timm2011-09-20 12:55:26

Rudolf Gaus2011-09-09 11:24:06

Birgit Michael-Maiwert2011-09-03 13:20:48

Markus Vierbuchen2011-08-27 12:36:49

Sergej Parschikow2011-08-05 14:03:13

Werner Pantle2011-07-19 22:01:54
1A
patricia Klasen2011-07-17 18:57:11

David Ertl2011-06-08 12:00:58
Stinken nach rauch wie nach einem Brandschaden! Kein Guter service! Boxen sind an sich gut. Kein high end,aber akzeptabel für eine kleine Gartenparty
Herr Glöckner2011-05-26 09:00:39
schnelle Lieferung, leider riechen die Boxenn extrem!!! Sodass wir schon seit drei Tagen Lüften müssen.
Xavier Roquet2011-03-29 19:22:20

Sebastian Greubel2011-03-10 23:03:02

Frank Gutglück2011-03-10 08:33:04

ralf gawol2011-03-01 14:32:38
super
Detlef Röwer2010-09-03 21:00:29

Danny Franke2010-01-28 23:22:58
Perfekt in Preis Leistung
Odilo Schiller2010-01-28 14:54:18
Boxen auch für kleinere Bühnenauftritte geeignet
Kontakt
You have a question about this article? With the form below, you can contact our support directly.