High quality Aktiv speaker system with 160 watts strength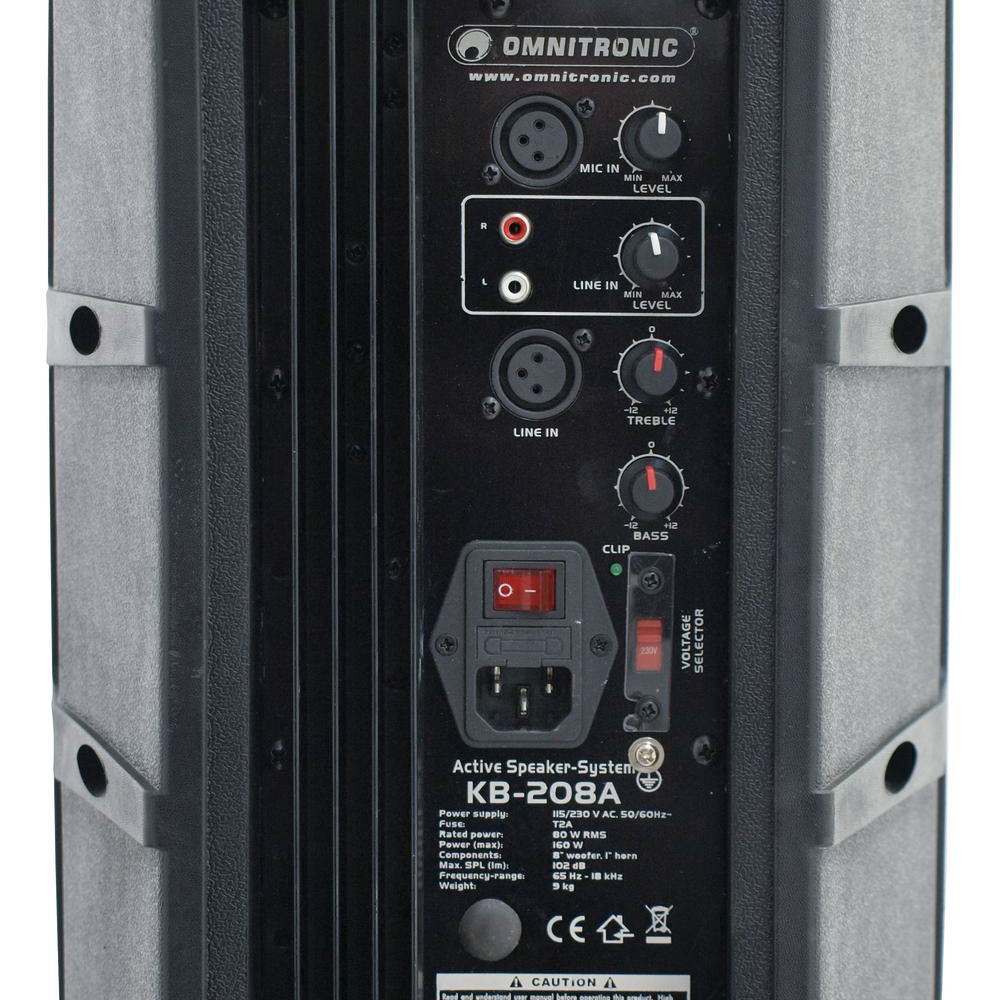 Description
Much performance with excellent sound volume. The active speaker system can be connected directly to the signal source.
Whether as a floor monitor or even standing, the compact box with sturdy guards and scratch-resistant plastic housing is suitable for transporting cars and ideal for Live music or fixed installation in party rooms.
Details
Performance description
• Active speaker for the direct connection to the signal source
•
2-band EQ master signal
• 
Great mid-range Horn
•
2-Wege crossover
• 
Use as a floor monitor or standing
• 
Stable protection grille protects against damage
• 
Scratch-resistant plastic housing
• 
Compact box for transport in car
• 
Ideal for Live music or for permanent installations in party rooms
• 
Mounting flange for tripod mounting
Technology in detail
• 
Power supply: 115/230 V AC, 50/60 Hz ~.
• 
Handling nominal 80 W RMS
• 
Maximum load capacity: 160 W
• 
Components: 8 "woofer, 1" Horn
Inputs
•
1 mic XLR
•
1 line XLR or RCA
• 
Maximum sound pressure: 102 dB
• 
Impedance: 4 ohm
• 
Frequency range: 65 Hz -18 kHz
• 
Dimensions (H x W x D): 400 x 277 x 257 mm
• 
Weight: 9 kg
Shipping
The following terms and conditions apply:
Dispatch conditions
Domestic delivery (Germany) and neighbouring countries:
Belgium, Netherland, Luxembourg, Austria, Denmark, France, Great Britain, Sweden, Italy, Switzerland, Liechtenstein, Czech. republic, Ireland, Portugal, Slovakia, Slovenia, Estonia, Latvia, Lithuania, Spain, Finland, Poland, Hungary, Bulgaria, Norway, Bosnia u. Hercegovina, Croatia, Romania, Greece, Iceland.

Goods can also be shipped to German islands, with the exception of: Hiddensee, all Nordfries. Islands, all Ostfr. Islands, Chiemsee

Dispatch shall not be made to the following foreign islands: We do not deliver to European islands outside of Germany.


Dispatch costs (inclusive of legally applicable VAT)
Domestic deliveries (Germany):

We charge a flat shipping fee of 4,95 € per order.

From a order value of 100,00 € onwards, we deliver shipments free of cost.

In case of deliveries to the German Islands, an island surcharge of 14,95 € is charged on the dispatch costs.


Deliveries to foreign countries:
We charge a flat shipping fee for international deliveries:

Per package 9,90€
Austria

Per package 16,90€
Belgium, Netherlands, Luxembourg, Denmark, France, United Kingdom

Per package 19,90€
Sweden, Italy, Switzerland, Liechtenstein, Czech. Republic, Ireland, Portugal, Slovakia, Slovenia, Estonia, Latvia, Lithuania, Spain

Per package 26,90€
Finland, Poland, Hungary, Bulgaria

Per package 39,90€
Norway, Bosnia u. Herzegovina, Croatia

Per package 59,90€
Rumania, Greece, Iceland


Delivery periods
Unless otherwise specified in the quote, domestic delivery of goods shall be made (Germany) within 1 - 3 days, for deliveries abroad within 5 - 7 days from conclusion of contract (if advance payment agreed from the date of the payment instruction).
Please note that deliveries are not made on Sundays and other holidays.
If you have ordered articles with different delivery dates, we send the articles together in one delivery if no other agreement has been made. The delivery date for the complete order will be the same as that of the article with the longest delivery time.

In case of self-collection, we will inform you by email once the product is ready, along with the collection options. In this case, dispatch costs will not be charged.
Payment
Accepted Payment options
- Payment in cash at the time of collection


- Prepayment via transfer




- Payment via PayPal




- Payment via Sofortüberweisung [immediate transfer]




- Payment by invoice (via Klarna)




- Payment via instalment purchase (via Klarna)


- Payment via amazon payments

Our bank account:

Volksbank RheinAhrEifel eG
IBAN Nr. DE17 5776 1591 0600 1418 00
Swift Code GENO DE D1 BNA

In case of questions, please contact us at the contact details mentioned in the Legal Notice.
Rating
Here you'll find ratings of our customers of this product
Uwe Seliger

2016-01-16 20:49:12



Mirko Mole2015-12-22 21:47:16

Thomas Stark2013-11-10 09:46:54
Sehr gute und schnelle Kaufabwicklung, klasse Shop
Rainer Kaspari2013-10-22 10:26:23
Halten nicht was ich mir davon versprochen habe.
anja ott2013-10-19 19:46:35
Preis-Leistung top , mehr kann man für das Geld nicht erwarten. In der Preisklasse meines Erachtens nichts besseres auf dem Markt.
Ulrich Wohlgemuth2013-10-19 19:37:55
Preis stimmte,Schnelle Lieferung, alles Super
Peter Rautenberg2013-10-16 20:49:21
Lautsprecher prima stativbuchse labil
Niebüller Shanty-Chor e.V.2013-09-30 19:15:54
Super alles Bestens, immer wieder gerne
Sascha Kepe2013-09-24 21:04:03
top service!! schnelle lieferung !! gerne wieder
Hermann Schacher2013-09-24 07:19:10
Super,allerbestes,danke
Frank Karlowski2013-09-17 21:28:43

Kim Olsen2013-09-15 19:59:01
Very fast packing and delivery (sehr schnelles versendung) Good produkt (gute ware)
Michael Kroll2013-08-28 17:37:56
Für den Preis, ganz passabler Klang und Verarbeitungsqualität.
Rudolf Blechschmid2013-08-28 08:25:09
prima schnell geliefert so wünscht man sich das
joachim probst2013-08-22 12:46:26
alles bestens, gerne wieder!
Roland Falk2013-07-01 23:31:23

Magda Burwig2013-06-18 13:32:14
alles super gerne wieder
Wolfgang Hemb2011-08-17 11:08:28

Paul-Hermann Leier2010-06-09 10:38:13

Kontakt
You have a question about this article? With the form below, you can contact our support directly.