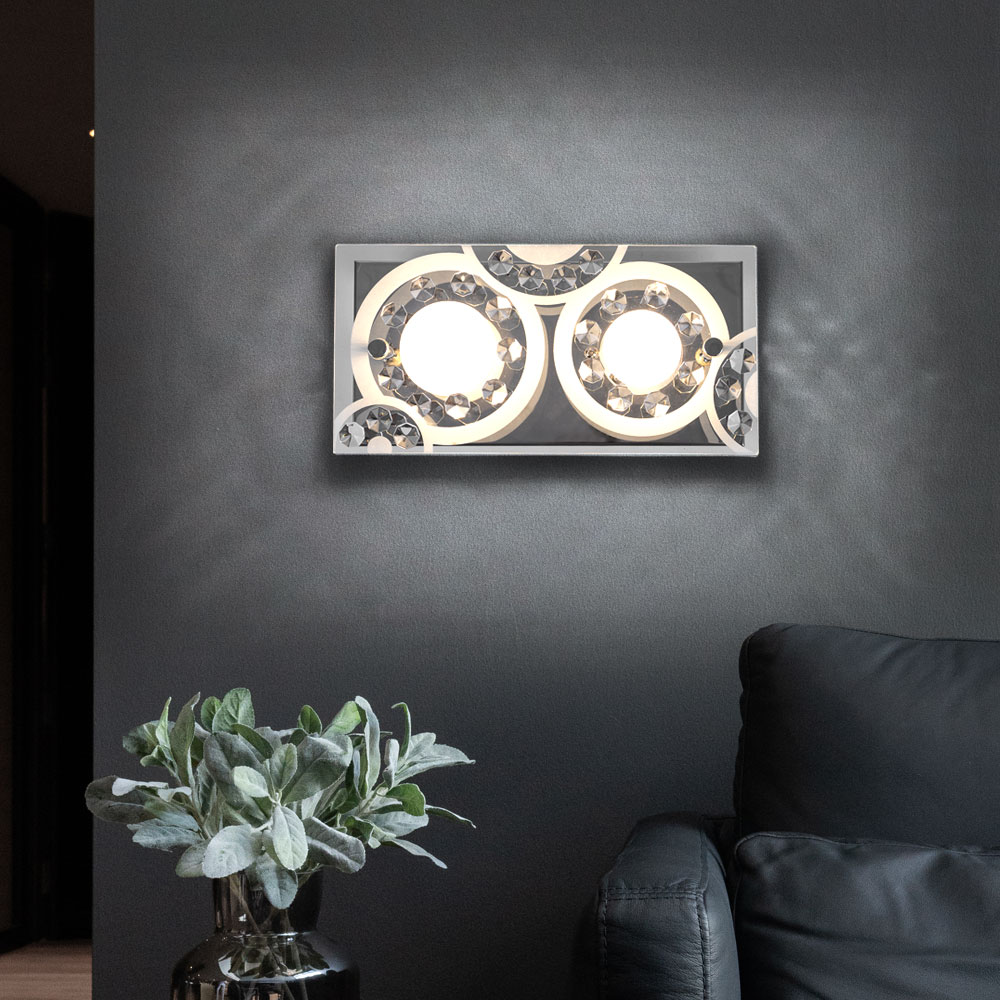 LED wall lamp, chrome, crystals, L 24 cm
Description
This modern and elegant wall lamp is made of mirrored chrome and glass.
div>
Above the two integrated LED lamps, each with 4 watts, there is a glass plate, which is partly satined and thus emits a pleasant and glare-free light. In addition to the satined pattern, there are also K5 crystals attached, which make the lamp a real eye-catcher.
Thanks to the mix of colors and materials The luminaire can be used in a variety of ways, e.g. in the living room, dining room, bedroom or hallway.
Compared to normal luminaires, LED spotlights consume a minimal amount of electricity and are even lower in consumption than energy-saving lamps. This protects the environment and your wallet.
High-quality, energy-saving LED lamps are built into the luminaire.
Details lamp
• lamp type: wall lamp
• Material: chrome
• lampshade: glass, satined
• K5 crystals
• protection class: IP20
• length x width x depth in cm: 24 x 12 x 9.5
• weight: 0.52kg

• bulbs: 2x LED
• bulbs included: yes (permanently installed)
• power bulbs: 2x 4 Watt
• luminous flux: 2x 320 lumens
• light color: warm white
• operating voltage: 9.2V, 50Hz
Details light source
• base: LED


• luminous flux: 320lm (lumen)
• Energy consumption: 66 kWh / 1000h
• Color temperature: 3100K (Kelvin)
• Nominal power consumption: 4W (Watt)
• Compared to a conventional light bulb: 66 = 102W
• Nominal service life: 2 000h (hours)
• switching cycles: 50000x
• dimmable: no

• mercury content: 0mg (milligrams)
• nominal half-value angle: 180 ° (degrees)
• color rendering (Ra) : 100