Wireless microphone system 2x microphones Omnitronic VHF-450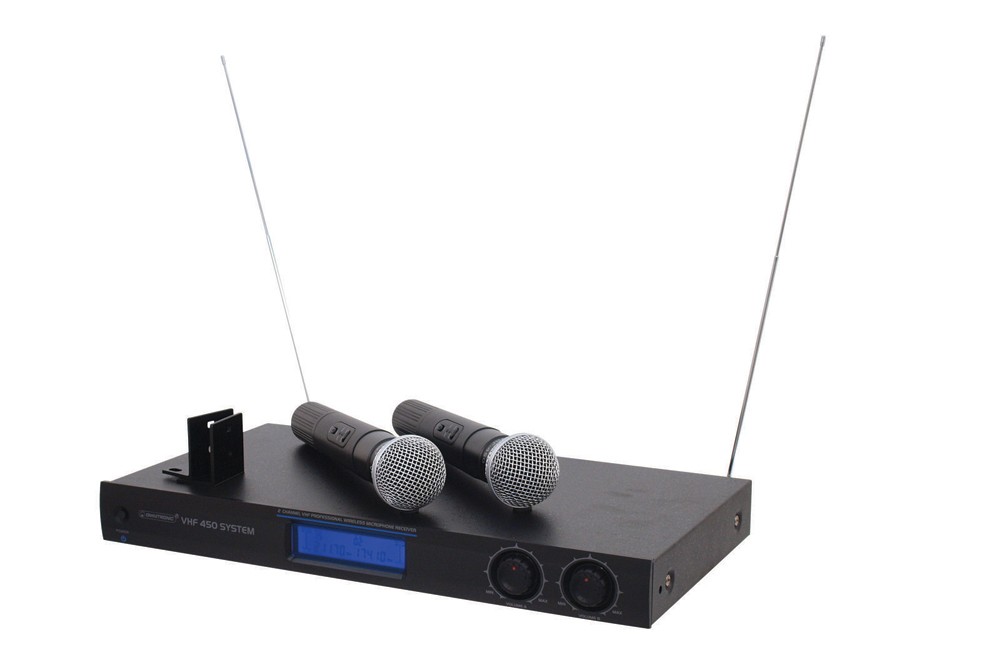 Description:

The absolute price/performance master! The VHF wireless microphone set with 2 microphones is very flexible in use for music and PA range. Elegant appearance and professional technology with great features.

With this set you can make your voice be heard - no matter where or on what occasion!

If you use it for a speech, a singing debut or a karaoke performance: this microphone system is definitly the right choice. You can use both microphones at the same time without interruption.

Get yours now!!!



Features:
• set consists of receiving-unit and 2 handheld microphones with integrated transmitter

Receiver:
• Non-Diversity-System with removable telescopic metal antenna (BNC connector)
• operation at VHF fixed frequencies (174,100 MHz and 211,700 MHz)
• 2 channels with separate level control
• LCD display with blue backlight for channel, frequency, carrier and audio signal
• XLR- and 6,3-mm-jack output per channel
• 6,3-mm-jack output for mix signal
• jack cable included in delivery
• operation via included power supply
• mounting brackets for 483-mm-rack mounting (1 U) included

Handheld microphones:
• dynamic microphone capsule with cardioid characteristic
• 8,5 mW transmitting power
• LEDs for operation and battery power supply
• mute function
• gain controller
• operation via 9-V-block (not included in delivery)


Technical data:
• system: non-diversity, 2 channels
• carrier frequency: VHF 174,100 MHz, 211,700 MHz
• range: 100 m (within visual contact)
• RF output power: 8,5 mW
• modulation technique: FM, F3F
• frequency output: 40 Hz - 15 KHz (± 3 dB)
• frequency stability: ± 0,003 %
• signal-to-noise ratio: >90 dB
• selectivity: >80 dB
• dynamic range: >80 dB
• audio outputs: 3 x mono jack, 2 x XLR
Shipping
The following terms and conditions apply:
Dispatch conditions
Domestic delivery (Germany) and neighbouring countries:
Belgium, Netherland, Luxembourg, Austria, Denmark, France, Great Britain, Sweden, Italy, Switzerland, Liechtenstein, Czech. republic, Ireland, Portugal, Slovakia, Slovenia, Estonia, Latvia, Lithuania, Spain, Finland, Poland, Hungary, Bulgaria, Norway, Bosnia u. Hercegovina, Croatia, Romania, Greece, Iceland.

Goods can also be shipped to German islands, with the exception of: Hiddensee, all Nordfries. Islands, all Ostfr. Islands, Chiemsee

Dispatch shall not be made to the following foreign islands: We do not deliver to European islands outside of Germany.


Dispatch costs (inclusive of legally applicable VAT)
Domestic deliveries (Germany):

We charge a flat shipping fee of 4,95 € per order.

From a order value of 100,00 € onwards, we deliver shipments free of cost.

In case of deliveries to the German Islands, an island surcharge of 14,95 € is charged on the dispatch costs.


Deliveries to foreign countries:
We charge a flat shipping fee for international deliveries:

Per package 9,90€
Austria

Per package 16,90€
Belgium, Netherlands, Luxembourg, Denmark, France, United Kingdom

Per package 19,90€
Sweden, Italy, Switzerland, Liechtenstein, Czech. Republic, Ireland, Portugal, Slovakia, Slovenia, Estonia, Latvia, Lithuania, Spain

Per package 26,90€
Finland, Poland, Hungary, Bulgaria

Per package 39,90€
Norway, Bosnia u. Herzegovina, Croatia

Per package 59,90€
Rumania, Greece, Iceland


Delivery periods
Unless otherwise specified in the quote, domestic delivery of goods shall be made (Germany) within 1 - 3 days, for deliveries abroad within 5 - 7 days from conclusion of contract (if advance payment agreed from the date of the payment instruction).
Please note that deliveries are not made on Sundays and other holidays.
If you have ordered articles with different delivery dates, we send the articles together in one delivery if no other agreement has been made. The delivery date for the complete order will be the same as that of the article with the longest delivery time.

In case of self-collection, we will inform you by email once the product is ready, along with the collection options. In this case, dispatch costs will not be charged.
Payment
Accepted Payment options
- Payment in cash at the time of collection


- Prepayment via transfer




- Payment via PayPal




- Payment via Sofortüberweisung [immediate transfer]




- Payment by invoice (via Klarna)




- Payment via instalment purchase (via Klarna)


- Payment via amazon payments

Our bank account:

Volksbank RheinAhrEifel eG
IBAN Nr. DE17 5776 1591 0600 1418 00
Swift Code GENO DE D1 BNA

In case of questions, please contact us at the contact details mentioned in the Legal Notice.
Rating
Here you'll find ratings of our customers of this product
Matthias Pannenbecker

2018-11-19 19:30:19




Wolfgang Diener

2016-09-29 08:21:03



Stefan Klüttermann2016-06-25 18:55:37
Super schnell, guter Transport, Alles top! Gerne wieder. Artikel top. Gutes Preis-Leistungsverhältnis.
Friedemann Barthels2016-05-27 12:27:56
Schnell und wie bestellt, gerne wieder
bianka hecker2015-10-17 18:34:43
1A immer wieder
Helge Renken2015-08-18 06:24:55
Alles Prima
Jörg-Peter Baier2014-05-13 14:22:21
Alles bestens
nina rogina2013-11-04 19:14:30
Sie sind große, schnelle Lieferung und Mikrofone sind groß. dank
Ulf Schieber2013-08-25 18:15:11

Norbert Hinz2013-08-06 15:49:52
Alles bestens.
Bernhard Szyllo2013-07-10 19:03:25
alles ok
Oldtimer u.Sportwagenclub Gloggnitz2013-07-09 18:35:51
top gerät schnelles service jederzeit wieder danke
Robert Jesske2013-07-09 14:03:04
Sehr gute Beratung, nur zu empfehelen.
Karl-Heinz Schulz2013-06-03 11:02:55
Super schnelle Lieferung - Top-Ware! Gern wieder!
Sandro Opitz2013-05-30 16:40:00
ich bin sehr zufrieden
Joachim Schiwietz2011-09-12 17:08:46
alles super Danke
Ansgar Kahl2011-07-27 09:32:32

Horst Klumpp2011-05-18 08:46:35
Leider ist im Momend keine Bewertung möglich da die Micros erst am Freitag den 20.05.2011 zum Einsatz kommen.
Reiner Schaller2011-05-04 12:50:12
Schnelle Lieferung, gute Qualität
petra lindenmayr2010-12-13 21:28:44

UDO RUTHMANN2008-12-14 14:36:35
TOP! Blitzversand!!!!
Kontakt
You have a question about this article? With the form below, you can contact our support directly.