Pendant light smoked glass
Suspended lights & pendant lights

Smoked glass pendant lights: for a mysterious flair
Whether in the kitchen, in the living room or in the study - wherever pendant lights made of smoked glass are used as pendant or hanging lights in various designs, they provide fascinating deep insights. The smoked glass not only captures the light in a unique way, but also creates a symbiosis of light and shadow, in which an aura of mystery resonates. Every ray that breaks through the glass gives the room an elegant touch, so that you can quickly leave everyday stress behind. We will show you the properties and special features of the tinted glass lamps and decorative light sources for your own four walls.
Smoked glass pendant lamps with special properties
The most popular pendant lights include models that, with their smoked lenses, are an extraordinary eye-catcher that immediately conjures up a warm and homely atmosphere in the room. The subtle tint of the glass not only gently filters the incident light, but also creates a fascinating sense of depth through a unique refraction of light. The material gets its slightly smoky effect and characteristic tint through the addition of metals such as metal oxides during the manufacturing process. This creates individual nuances that give the lamp that certain something. Each pendant light becomes not only a light source, but also a work of art that enriches your rooms with timeless elegance and modern flair. In addition, our creations impress with a variety of properties:
Aesthetics: An enchanting smoked glass pendant lamp is characterized by its timeless elegance and aesthetic appeal. The smoky hue gives it a delicate and elegant design.
Focus on details: The fine structure of the smoked glass invites you to perceive small details better and to observe the play of light and shadow in the multi-lamp models.
Excellent combinability: These lights can be wonderfully combined with different styles (e.g. antique, classic, industrial) and furniture to create a well thought-out interior design and a cozy ambience.
Contrast and Harmony: The smoky glass can both contrast with light elements and blend harmoniously with dark tones.
Timeless investment: Because of the high-quality workmanship and the timeless design, smoked glass hanging lights as interior lights are a long-lasting investment in the interior design. They are always in the current trend and attract attention.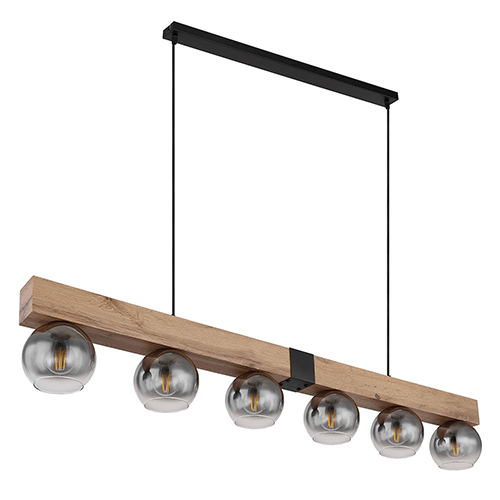 Pendant lights smoked glass for the right room
An elegant hanging lamp made of smoked glass is often round like a glass ball and enchants with its very own magic. The warm, shimmering light shining through the glass evokes an atmosphere imbued with style and mystery. This is how their diverse potential unfolds brilliantly in the most diverse rooms:
Study: Above the desk, they create an atmosphere of concentration and creativity.
Dining room: They bathe convivial evenings in soft light, set accents and evoke a convivial atmosphere.
Kitchen: As shining jewels above the kitchen island, they add a sophisticated flavor to your cooking.
Bedroom: They conjure up a subdued, soothing light in your own oasis of peace that invites you to relax and dream.
Living room: Here they set impressive accents and give your living room an aura of luxury.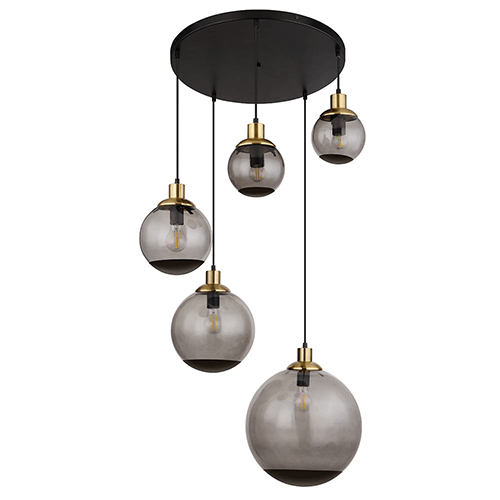 These creations are made for your home, because they are flexibly height-adjustable, swiveling and easy to assemble, they nestle perfectly in every corner of your room - for example in a patterned, polished or wooden look.
Order smoked glass pendant lamp in the ETC online shop
The glass of the lamp gives your surroundings a mysterious touch and the lamp immediately casts a spell over you? Then you probably already have a real pendant light with smoked glass. If not, you can choose from our wide range, because whether one, two or more flames - the included illuminant shines forever inside the high-quality glass. Let yourself be enlightened now or ask our competent lighting experts. We will bring enough light into the darkness for you in no time at all!
Frequently asked Questions
What is smoked glass made of?
Smoked glass consists mainly of silicon dioxide, which is obtained in the form of quartz sand or quartz gravel. It is formed by melting and then cooling. Various additives such as metal oxides (e.g. iron oxide and manganese oxide) or other metal oxides are added during the melting process to achieve the desired smoke colour.
What does "flame" mean for smoked glass pendant lights?
"Flame" in smoked glass pendants refers to the number of light sources. A "flame" fixture contains a single LED bulb, while a " three-flame" fixture has three light sources. "Flame" can also refer to a decorative pattern on the glass surface that is created during the glass manufacturing process by blowing in air or gas.
What color is a typical smoked glass pendant light?
Smoked glass is particularly noticeable due to its smoky or gray colour. The distinctive dark tint and exact color intensity may vary by model and design, but in general you have a wide range of dark grays and smoky tones to choose from.