Ceiling floodlights: light-giving energy sources
Elegant, bright and atmospheric – ceiling floodlights bathe every room in a particularly beautiful light. As floor lamps , they stand like one and flood the room as a modern floor lamp and indirect light source with exciting light accents. Whether in the reading corner, behind the sofa or in the corner of the bedroom, the stylish light sculptures always create an atmospheric ambience. Find the optimal light in our online shop that will take your home to a new level!
Stable ceiling floodlights used in various rooms
It doesn't matter whether it's an office, living room, bedroom or children's room - you can always rely on a floor lamp for a pleasant basic brightness. Its solid construction not only ensures a secure footing, but also blends harmoniously into any environment. Like a pillar of light, it emits a wide range of light rays. With an uplighter, however, the beams are directed towards the ceiling in order to create striking lighting accents there. The scattering creates an indirect light that creates a pleasant and even brightness in the room. As the only lighting in the room, this creates a cozy atmosphere that invites you to work, relax or read. No matter in which room:
Office: A dimmable floor lamp used as an uplighter offers ideal lighting for concentrated work in the office as an additional light source. The indirect light creates a pleasant environment that promotes productive work.
Hallway: In the hallway, the lamp is an inviting source of light that welcomes every guest into your home.
Children's room: The versatile light source can help children both play and read in the play or reading corner. Lamps including interesting color changes always ensure a colorful variety in the gaming paradise with appropriate lighting.
Bedroom: In the bedroom, an integrated dimmer creates a relaxing atmosphere before going to bed. Perfect for cozy evenings or for reading. Tip: With a bedside lamp you can have a clear view even at eye level.
Living room: A floor lamp with a shade sets stylish highlights in the living room by acting as an elegant design element and source of light.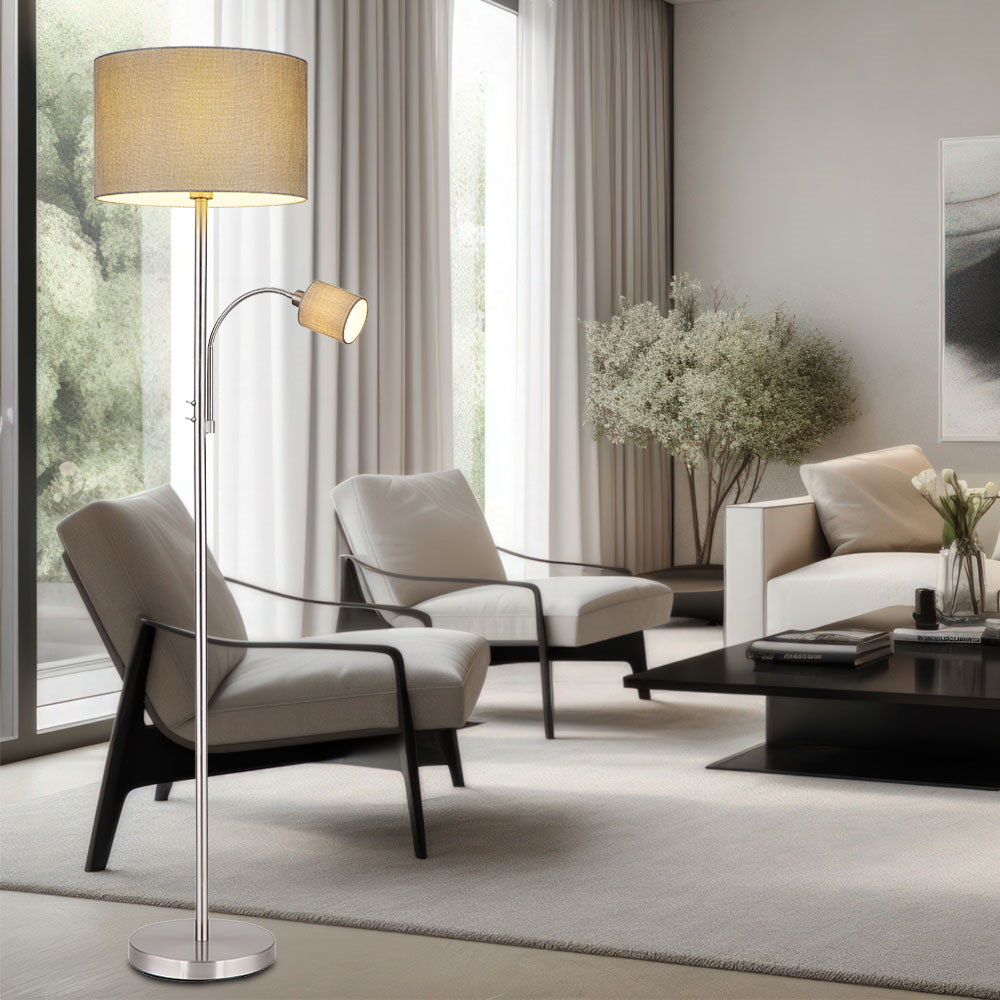 Uplighter with fixed LED technology
Would you like to benefit from the bright light of an uplighter? Our high-quality models have long-lasting LED bulbs that conjure up a soft light in your own four walls in the dark. With the permanently installed LEDs, you not only save time, but also costs in the long term. Advantage: You don't have to worry about installing the bulbs correctly. If you still want to get started with your own LEDs, the small light-emitting diodes can be screwed in in no time. LED technology brings with it many advantages:
Dimmable: Adjust the light intensity to suit your environment. Many models are dimmable, allowing you to create the atmosphere you want. Whether cold, neutral or warm white light - with the integrated reading lamp you can dim any light color at the push of a button.
Directional lighting: LED uplighters can direct the light in a targeted manner in order to emphasize certain areas in the room or set lighting accents.
Low Heat: LEDs generate less heat, reducing the risk of overheating and increasing safety.
Immediate brightness: Light-emitting diodes reach their full brightness immediately after switching on - in contrast to other types of lamps, which light up slowly.
Versatility: LEDs can glow in different color temperatures. From warm white light for a cozy atmosphere to cool white light for a bright working environment.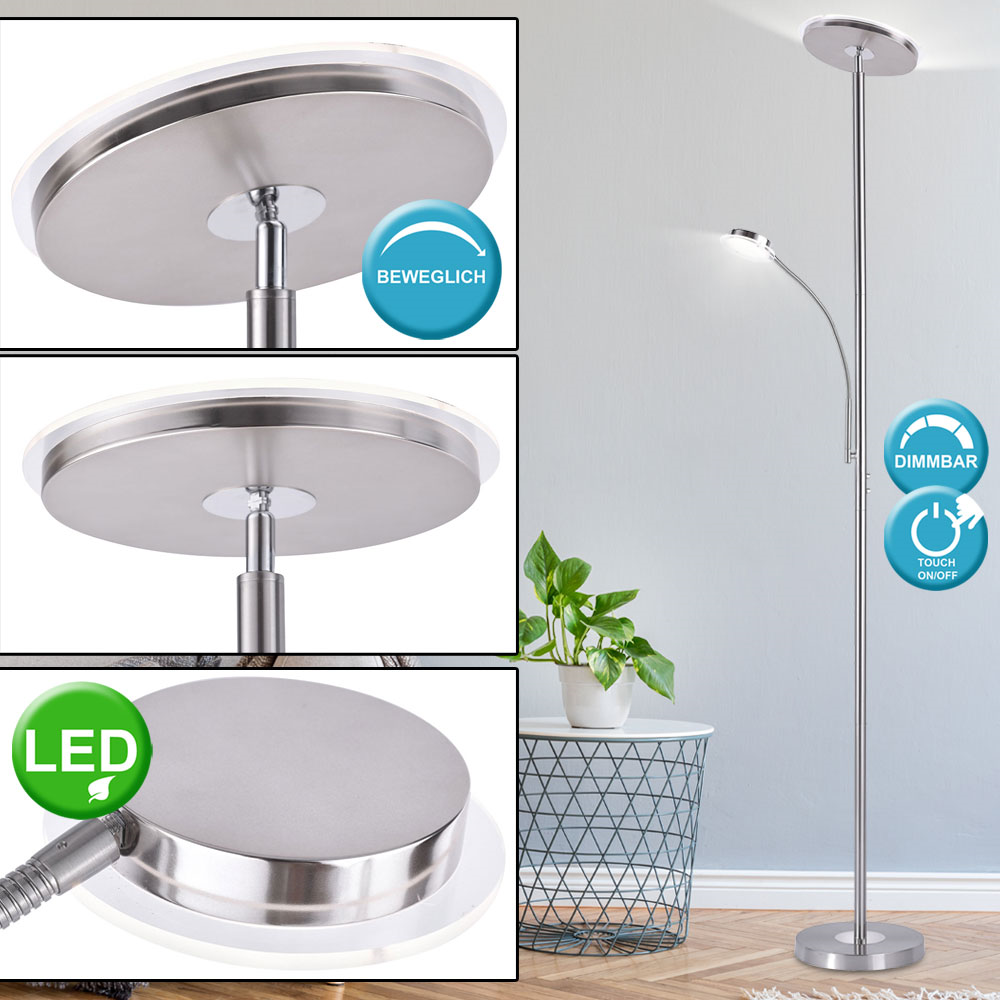 Focus on versatility: functions of uplighters
Floor lamps not only look good as decorative elements and pleasant lighting, they also keep what they promise. In addition to their imposing size, they immediately attract attention with their unusual lighting technology. Behind the façade, they impress with a variety of functions:
App control
Can be used as a reading lamp thanks to the integrated light arm
Flexible arm
Height adjustable
color fixation
color change
night light
Step switch
timer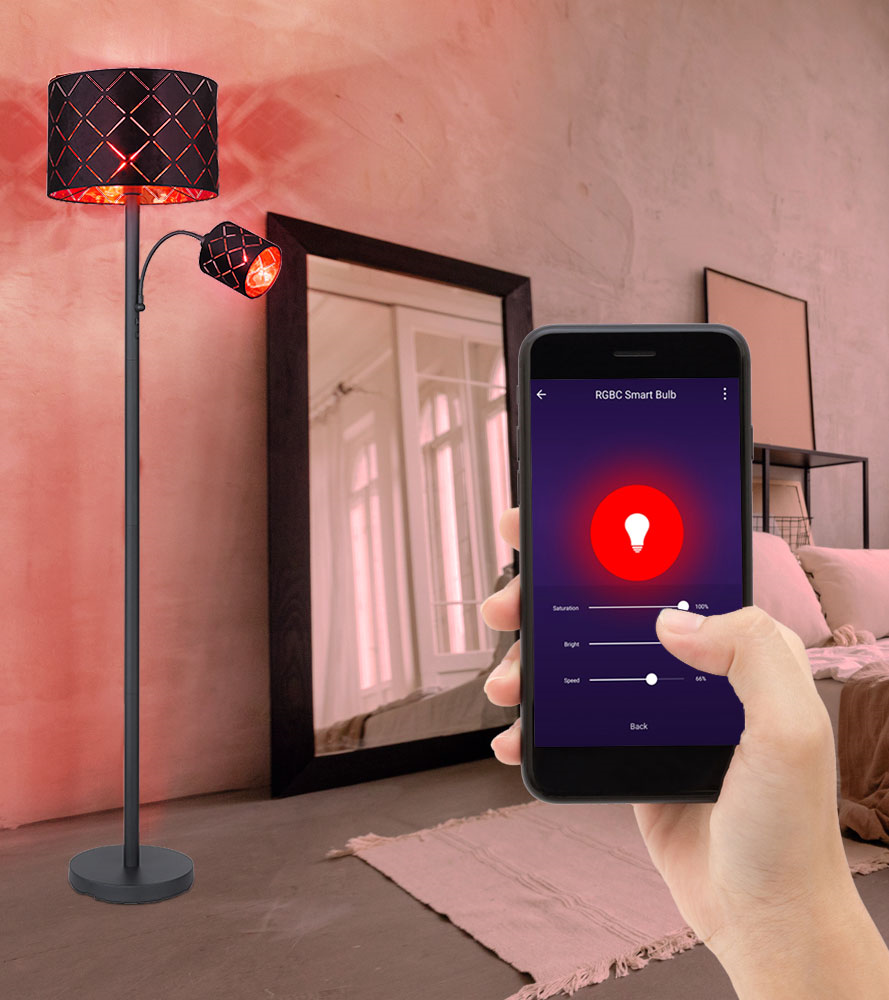 The space-saving design makes our models not only functional, but also space-efficient. With their slim silhouettes, they fit harmoniously into different room concepts without taking up valuable space. Installation is a breeze and doesn't require any expertise, so you'll be brightening up your space with quality light in no time.
Order uplighters online in the ETC Shop
Are you looking for a suitable ceiling floodlight that directs its light onto the ceiling? With our height-adjustable models, flexible light beams and energy-efficient features, you can transform your space in no time. Make your home or office even more comfortable and inviting with our functional and aesthetic uplighters. Order now and bring light into your life!
Frequently asked Questions
Can an uplighter also serve as a reading lamp?
Yes, modern uplighters can certainly be used as reading lamps. Many models are equipped with flexible goosenecks or movable light heads. The light emitted by the elegant floor lamp can be directed to specific areas, for example the reading corner or the seating area.
How many lumens does an uplighter need?
If you want your rooms to be particularly bright, you should aim for a brightness of at least 800 lumens. We recommend at least 400 lumens as a reading light. Thanks to our diverse selection, we also have LED floor lamps with over 1,000 lumens in our range.
Are ceiling floodlights also height-adjustable?
Yes, our models are versatile lights that are flexibly adjustable in height, so you can find the ideal angle and height of the light beam. Due to the height adjustability, the light cone can be directed either upwards to the ceiling or downwards in order to illuminate a specific area in a targeted manner. This makes ceiling floodlights versatile and adaptable lighting solutions in various living and working areas.