Recessed lights
Recessed luminaires are a modern and aesthetically pleasing solution for interior lighting . With their unobtrusive design, they fit seamlessly into ceilings or walls and create a special atmosphere. Their diverse possible uses range from accent lighting of individual objects in the immediate surroundings to the uniform illumination of entire rooms. Find the perfect recessed light for your home in our range!
Recessed lights in use: The best places
There are many suitable places for recessed spotlights and spotlights. You can use the spotlights according to your wishes for tailor-made lighting. Should the lamps provide more general lighting or should a certain area be selectively illuminated and thus set the scene? The decision is entirely yours. The following areas of application are particularly suitable for the use of recessed lights:
As the main lighting in large rooms such as the bedroom or living room

Above the kitchen unit as a working light for cooking, to ensure that the worktops are sufficiently bright

In bookshelves , where the individual lights accentuate and highlight certain decorative elements

In the closet (with motion detector) to quickly find the perfect outfit at any time

In small or narrow rooms such as the stairwell, hallway or guest toilet

As the main lighting in the bathroom (make sure you have the right protection class)
Recessed lights: flat or square?
Flat and square recessed spotlights differ not only in their external appearance, but also in their respective advantages and areas of application. Flat recessed spotlights impress with their subtle style, which is ideal for a flat ceiling, wall or the substructure of a kitchen unit. In this way, they create a smooth surface and give the room - even in a circular shape - a modern and unobtrusive ambience as recessed ceiling spotlights .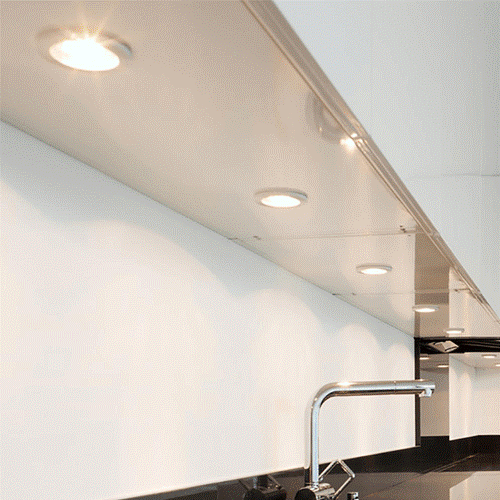 On the other hand, square recessed spotlights offer a striking look that is suitable for rooms where an angular design is desired. They set clear accents and can stylishly underline the structure of the ceiling or wall.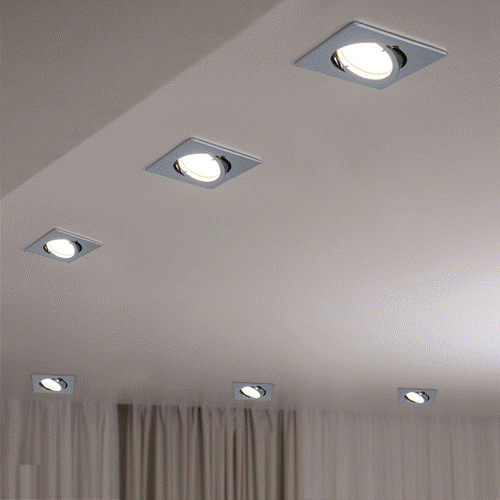 There are also differences in the light distribution. With their wide beam angle , flat recessed spotlights are ideal for evenly illuminating a room, while square recessed spotlights use their focused light to specifically highlight individual areas, such as certain pieces of furniture or pictures. The installation options also vary: a flat model is often easier to install in thin ceilings or walls, while a square model's compact design makes it ideal lighting for rooms with limited space.
Top-class recessed spotlight – with a high level of protection
Each recessed light has a specific protection class , which protects the product from external influences such as moisture and dust. Recessed spotlights in particular must meet high safety requirements because they come into direct or indirect contact with building materials and other materials in ceilings or walls. Recessed spotlights with different protection classes are therefore required for different environments and high efficiency :
IP 44 : Recessed spotlights with protection class IP44 offer protection from objects with a diameter of more than one millimeter and are splash-proof. This makes them ideal for use in wet rooms such as bathrooms or outdoors.

IP 65 : Models with protection class IP65 are dust-tight and shielded against water jets from all directions. These lights can therefore be used excellently in areas where they are exposed to heavy contamination or cleaning agents.
Versatile LED recessed lights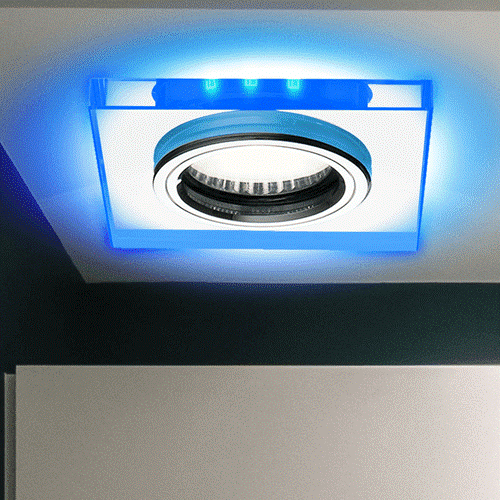 Whether in the private living area or in the work environment - LED recessed lights impress with the most modern look and are energy-efficient, sustainable and environmentally friendly . But even at night they prove to be efficient long-time favorites that impress with their long service life. For LED technology, we therefore recommend our GU10 models , which are easily interchangeable and offer a wide range of options for creating an individual light spectacle in your own four walls. Thanks to state-of-the-art technology, LED recessed lights not only shine with brilliant light quality, but also give every interior an elegant touch with the right light .
Buy recessed lights in the ETC online shop
With our recessed lights you can install the right light in your ceiling or wall in no time. But even with recessed floor spotlights , you won't lose your footing in the dark evening hours with the right lighting. Take a step-by-step look at our wide range of recessed lights , which are available in different colors, and don't hesitate to contact our competent lighting experts if you have any questions . Whether dimmable recessed lights, sufficient power supply or low heat generation – we take care of your concerns and wishes!
Frequently asked Questions
How many recessed lights are needed per square meter?
One recessed spotlight is required per square meter if you have a lamp with 300 to 400 lumens. However, for a dimmed atmosphere, the installation area should be larger and be around 1.5 to 2.0 square meters.
Do ceiling spots need a transformer?
In most cases, modern LED ceiling spotlights do not require a separate transformer as they can be operated directly with the usual mains voltage of 230 volts. LEDs generally have low power consumption and therefore do not require a transformer to reduce voltage.
What are the advantages of recessed lighting for interiors?
Recessed lights bring other decorative elements into the foreground, while they themselves remain hidden in the wall or ceiling in the background. They are also true space savers, offering excellent protection against splash water and dust thanks to their high protection ratings. They are therefore also suitable for damp rooms, for example.