Chandelier
You want to give your home a glamorous and noble look? Then you've come to the right place! Our timeless chandeliers transform any setting into a radiant and majestic space. Discover our fascinating range of chandeliers and add a touch of elegance to your home, office or venue.
Shining features to our chandeliers
Chandeliers are versatile and have different properties that you should definitely know before buying. Learn more about their design and materials.
Brightness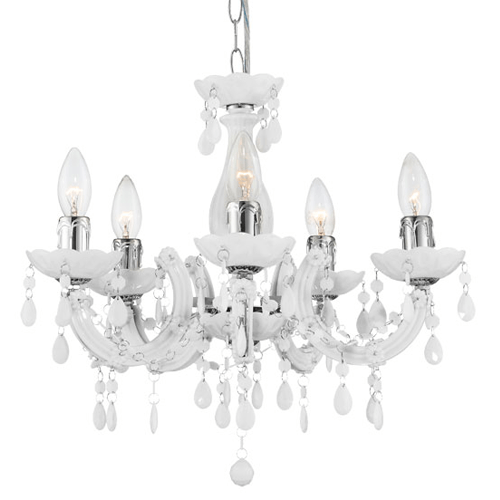 Classic chandeliers are powered by candles or incandescent lamps, which create a cozy atmosphere and warm light. Nowadays, however, energy-efficient LED lamps are often popular, offering not only strong brightness but also the ability to adjust the light intensity.
 
By combining several light sources in one chandelier, sufficient illumination of the room and an aesthetic and glamorous effect can be achieved. Depending on your taste, you can either choose a chandelier that shines very brightly with 1000 lm , or a chandelier that emits a soft light with 300 to 500 - or a light intensity in between, depending on your preference. Also pay attention to the orientation of the light sources. Since many chandelier candles are directed upwards, the lighting is slightly dimmer. You should take this into account when selecting the size and number of bulbs to achieve the desired brightness.
Height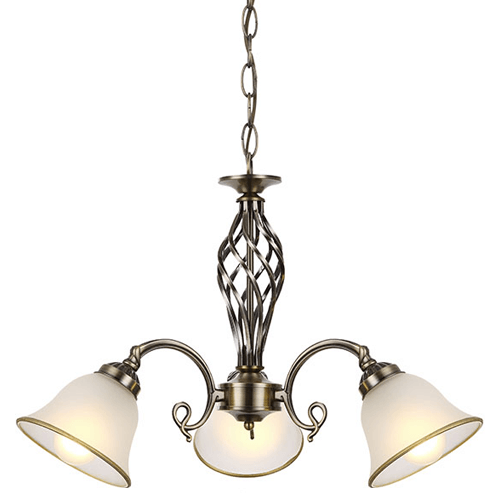 In order for chandeliers to develop their full luminosity, the optimal height of the lighting composition is of great importance. The rule of thumb applies here : rooms with high, load-bearing ceilings are perfect for these impressive lighting creations, as they have enough space for commuting. If you intend to place your crystal chandelier above the dining table, it is recommended to leave a distance of 60 to 70 centimeters between the table top and the bottom of the chandelier. There are no hard and fast rules for installing it in living rooms or kitchens, but it is advisable to mount the chandelier high enough so that it does not get in the way and you can move freely. So you not only enjoy the bright light, but also the free space around you.
Size
The size of chandeliers matters more than you might think. When hanging freely in the room, you can choose the diameter of the chandelier, depending on your preferences. Be sure to consider the total luminous flux , which depends on the number of light sources and their brightness. The required luminous flux is influenced by the size of the room, the color of the room (dark walls absorb more light) and the desired illuminance.

If the chandelier is to be placed over a table, the size of the table is an important consideration. The chandelier should have a smaller diameter than the table to create a harmonious proportion and appropriate spacing.
Energy efficiency
LED chandeliers offer several benefits when it comes to energy efficiency. They use significantly less electricity than conventional light bulbs and have a longer lifespan. This means not only a reduction in energy costs , but also a reduced need for lamp replacement. In addition, LED chandeliers offer a high level of flexibility in terms of brightness and light color. They can often be dimmable, allowing you to adjust the lighting mood in the room.

Therefore, when choosing a chandelier, it is recommended to pay attention to energy-efficient models with LED technology. This not only protects the environment, but also reduces energy costs and ensures beautiful lighting.
Discover the splendor and diversity of the chandeliers
Chandeliers are available in a variety of styles and different designs to suit different tastes and décor styles. From antique charm to modern elegance, there is something suitable for you:
Elegant chandelier offers the opportunity to add unique character to any room and create the ambience you desire.
Buy chandeliers online in the ETC shop
Find what you are looking for in our online store, which offers you a wide range of styles and designs. Choose the perfect chandelier for your home and transform your rooms into light-giving oases of elegance . No matter whether you are looking for a chandelier for your living room, dining room, bedroom or office - you will find it with us. Order your dream chandelier online now and let yourself be enchanted by its magical charisma and unique flair. Bring luxury and classic elegance into your home with an ETC chandelier from our online shop!
Frequently asked Questions
Are chandeliers only suitable for large rooms?
No, chandeliers come in different sizes and designs that are suitable for different room sizes. There are also smaller chandeliers that look great in smaller rooms or even in hallways and bathrooms.
How high should a chandelier hang above the dining table?
As a rough rule of thumb, it's best to position a chandelier about 75 to 90 cm above the tabletop. This ensures enough space for head and shoulders and prevents glare.
Are chandeliers energy efficient?
The energy efficiency of chandeliers depends on the light sources used. However, by using energy-efficient LED bulbs, chandeliers can achieve good energy efficiency and reduce power consumption compared to traditional incandescent bulbs.